Back to HCM Whitepapers Library
Talent Management Whitepaper:
Ways to Spot Your Top Performers
Don't let your top performers slip through the cracks.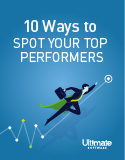 Top performers at any organization are engaged, flexible, reliable, eager to improve, and in tune with corporate culture. They're the individuals that can inspire your business to grow and change for the better. Despite these seemingly distinct qualities, it can be tough to pick out your high performers and high-potential employees from the crowd; that's where this guide comes in.

These ten methods combine time-tested techniques with exciting new analytic technologies to help you spot not only your top performers, but your high-potential talent as well.