Back to Human Capital Management Whitepapers Library
HCM Starter Kit:
10 Stay Interview Questions You Can Use Now
Learn why often the best hire a business can make is none at all.

Fill out the brief form to read this complimentary HR starter kit.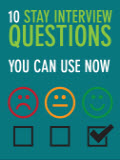 We're all familiar with exit interviews—a chance to find out what went wrong leading up to an employee leaving your organization. But recently, research shows that it pays to be proactive. Average turnover costs are around 20% of an employee's salary, and even more for specialists, executives and other senior positions.

That's a significant cost associated with losing talent, and it's time to start using every talent retention tool at your disposal to hang on to your top performing employees. "Stay interviews" are a simple, cost-effective way you can improve retention and avoid unexpected turnover. Rather than finding out why an employee left, a stay interview uncovers what employees like and dislike about their current position, what factors might contribute to their leaving, and what can be done to encourage them to stick around.

Our stay interview starter kit includes a brief analysis of how and why to start using stay interviews today, along with 10 sample questions designed to discover employee pain points, increase engagement, manage talent flight risks, and more so that you can take proactive steps to improve retention.