Back to Human Capital Management Whitepapers Library
HCM Starter Kit:
10 Stay Interview Questions You Can Use Now
Learn why often the best hire a business can make is none at all.

Fill out the brief form to read this complimentary HR starter kit.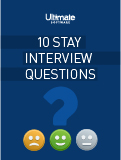 "Stay interviews" are a simple, cost-effective way to discover what your employees truly like and dislike about their job before it's too late. With new sentiment analysis technology, you can get more from these answers than ever before, improving retention and helping your teams avoid unexpected turnover.
Our stay interview starter kit includes a brief analysis of how and why to start using stay interviews today, along with 10 sample questions designed to discover employee pain points, increase engagement, manage talent flight risks, and more so that you can take proactive steps to boost retention.