---
On-Demand HCM Webcast: Designing an Exceptional Employee Experience from the Inside Out
How to create a "Wow" customer experience by putting your people first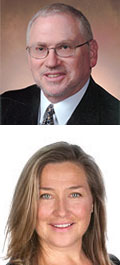 Companies have invested countless hours and millions of dollars in improving employee engagement, but many employers continue to miss the mark. It's time to rethink employee engagement initiatives, and invest in optimizing the employee experience—company cultures that ignite employee passion.
Join us for a live, one-hour webcast to learn the importance of creating an exceptional employee experience and how it's directly tied to improved customer satisfaction and loyalty.
You'll learn:
Why employers should treat employees like customers
How the employee experience and customer experience are inextricably linked
Who is your greatest brand ambassador
How you can create a 'Wow!' customer experience culture
All webcast attendees will also receive a complimentary copy of the Ultimate Employee Experience Playbook, which will provide you with steps you can take right away to improve your organization's company culture.
Webcast Speakers
Michael Lowenstein, Ph.D., C.M.C, Thought Leadership Principal
with Beyond Philosophy
Michael specializes in customer analytics, employee ambassadorship research and training, predictive modeling, and strategic customer lifecycle management research and training. He is broadly experienced as a visionary and innovative marketing consultant in many B2B and B2C product and service industries. His particular areas of interest are competitive positioning, impact of brand equity and word-of-mouth communication on downstream customer behavior, stakeholder focus and behavior, and how organizations build trust and authenticity through customer centricity and use customer insight, in reaching their strategic business goals.
Cecile Alper-Leroux,
Vice President of Human Capital Management (HCM) Innovation
at Ultimate Software
Cecile is an internationally sought-out speaker, thought leader, and visionary on HCM trends, hot topics, and global strategies who writes and speaks extensively on the changing worker and workforce. Passionate about people and technology in the workplace, Cecile has dedicated her life's work to helping companies design the best possible experience for people at work so they can achieve great things. A seasoned economic anthropologist, she loves uncovering micro-cultures within organizations and helping leaders and HR professionals effectively respond to evolving workplace dynamics, trends, and opportunities.