Back to HCM Whitepapers Library
HCM Solutions Empower Business Performances for Professional Services Organizations
HR and payroll leaders in the professional services field share their stories on how cloud-based solutions have empowered their companies.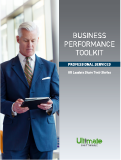 Organizations in professional services fields have unique hiring needs and pay structures that position them to leverage people management tools unlike any other industry.


By adopting a comprehensive solution, your organization can experience a wide range of benefits including:
Quick response to new business opportunities with talent acquisition
Increased leadership development
Engagement and retention for specialized, highly skilled workers

Read on to see how cloud-based people management tools are empowering industry leaders in the professional services field, and how they can do the same for you.