Back to Human Capital Management Whitepapers Library
The Employee Experience Playbook:
Igniting and Sustaining a Culture of Commitment
Fill out the brief form to read this complimentary whitepaper.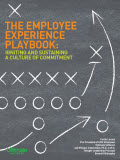 Where have traditional employee engagement programs gone wrong? After decades of research and millions of hours invested into performance management initiatives, many employers continue to miss the mark. It's time to rethink engagement and view it as the outcome of a carefully crafted, holistic employee experience. The employee experience harnesses the voice of the employee to evaluate the relationship your workforce has with your brand, and leverage that relationship for tangible results.

In the Employee Experience Playbook, Michael Lowenstein of Beyond Philosophy and Ultimate's Cecile Alper-Leroux take an in-depth look at how we got to this point and where the business world needs to go from here. This exclusive whitepaper examines the major pillars of a superlative employee experience, including new roles for leadership and HCM technology.