Canadian HRM Guide:
Making Payroll a Strategic Asset
Fill out the brief form to read this complimentary guide.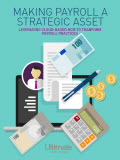 Industry leaders worldwide have begun to realize payroll's potential, especially as payroll managers leverage exciting advances in Canada Human Resources Software. Rather than simply serving as a glorified spreadsheet of paychecks to be printed, payroll data can be employed to paint a more robust and comprehensive picture of a company's workforce with Payroll Software for Canada.


Read this guide to discover how a unified, cloud-based HCM solution empowers Canadian payroll teams to prove their critical role as a part of an organization's overall strategic vision.