Discover what's new with Ultimate Software's UltiPro®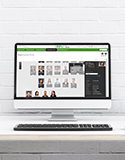 You need a people management solution that's intuitive, flexible, and innovative so you can focus on the most
important piece of your business: your people.

UltiPro's industry-leading technology foundation and innovative user experience design deliver a comprehensive people management solution to help simplify your work life. Because of its evolving technology approach and architecture, Ultimate can easily adapt and make adjustments as technology and market changes occur.

What does this mean for you? Increased speed of delivery for new products and features that connect your people with the information and resources they need. Fill out this brief form to uncover some of UltiPro's latest enhancements via a rich and interactive guide.