Business Intelligence Guide:
6 HR Metrics You Should Be Tracking Now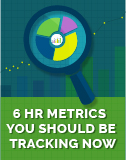 Business intelligence is an incomparable tool for getting the most from your staffing, planning, and budgeting decisions. To plot a course for the future of your business, managers and executives need hard, accurate, actionable data.

In this interactive experience, discover the 6 HR metrics your executives and managers should be tracking right now, and learn how to harness them for tangible benefits.