---
Business Continuity Reporting with UltiPro®
Discover how UltiPro provides the insights to help protect employees and maintain a strong workplace culture during a crisis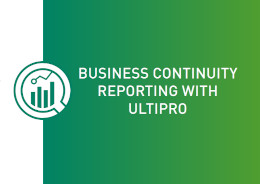 The COVID-19 pandemic is transforming every industry around the world in an unprecedented manner—and HR is no exception. Difficult questions around how and where employees should work, when and whom companies should hire, and how to mobilize and prioritize various new skill sets are being asked—resulting in tougher decisions about headcount and resources.

Ultimate's people-focused human capital management platform, UltiPro, has continually evolved to meet the present-day and future needs of organizations. UltiPro's unified reporting and business intelligence tools enable you to pull data across all components of HR, payroll, and talent management to gain complete visibility and insight into key workforce metrics and business trends—helping you make important decisions regarding your people and business.

Fill out this brief form to learn more.